Family Photography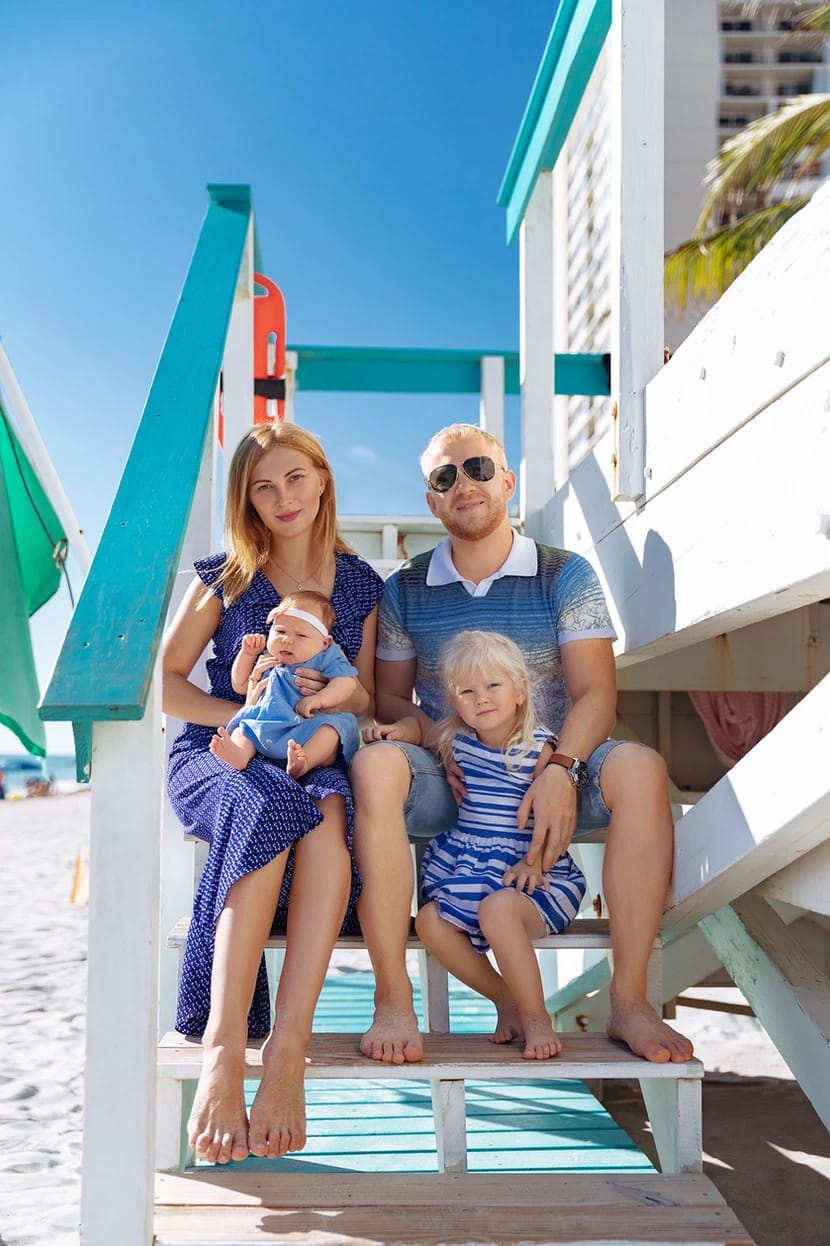 Capture Life's Precious Moments with Miami's Premier Family Photographer
Welcome to MiamiPhoto.pro, where capturing memories is our passion.
Professional and Experienced Family Photographers
Memories are precious and deserve to be treasured forever. Our team comprises talented photographers who appreciate this sentiment and endeavor to provide you with captivating photos that capture the true nature of your family.
Custom Photo Sessions Tailored to Your Needs
For those looking for high-quality photography services that truly capture the spirit of their family, look no further than MiamiPhoto.pro. We understand how important these photos are and take great care in creating custom sessions tailored specifically to our client's needs and styles. Whether it's documenting an important event or arranging for a beautiful portrait set-up, our team is dedicated to providing exceptional service throughout every step of the process so you can receive photos that truly reflect the love shared within your family dynamic.
Stunning, High-Quality Images
Your family's unique story deserves to be captured with care by professionals who understand its value. That's where we come in our team of expert photographers who specialize in documenting special moments which bond families together forever! By using state-of-the-art technology combined with an artistic touch, we emphasize every detail to ensure each image represents your family's true essence- its love, laughter, and joy.
Miami Family Portraits that Perfectly Capture Your Loved Ones
At MiamiPhoto.pro, we hold a profound belief that family portraits go far beyond mere pictures; they are lasting memories that embody the very core of your loved ones. Our team comprises seasoned family photographers in Miami who possess an unwavering dedication to fulfilling our solemn duty: providing you with breathtaking images that flawlessly immortalize the love, laughter, and happiness shared within your kinship.
Regardless if you prefer a classic or eccentric approach for your photo session, our photographers will collaborate with you closely to tailor the experience according to your specifications and artistic style. With exceptional attention to detail rivaling none other, coupled with a steadfast commitment towards capturing life's priceless moments – at MiamiPhoto.pro we guarantee immaculate high-standard photographs accurately reflecting the familial essence.
Book Your Family Photo Session Today
Why delay? Book your MiamiPhoto.Pro a family photography session today, and let us help you create lasting memories. Our enthusiastic team is eager to collaborate with you and deliver images that will be treasured by you and your loved ones for a lifetime.
Frequently Asked Questions
How much should you spend on family photography?
It is helpful therefore to have some understanding of how costs can fluctuate according to factors such as location or offered packages by various photographers.
The suggested investment ranges from around $200-$1k-plus nationally and will vary according to the photographer's skill level among other aspects.

Our prices
1 hour = $300 includes 35-50 photos with basic editing + 5 high-end (detailed) retouching photos
2 hours = $450 includes 50-80 photos with basic editing + 10 high-end (detailed) retouching photos
Are professional family photos worth it?
When it comes time to make decisions about taking professional family photos, keep one thing in mind: These pictures represent much more than just another activity or expense item on a list somewhere.
They actually offer an amazing opportunity for capturing priceless memories that will light up hearts throughout generations yet unborn! Family portraits have always been cherished due to their ability to evoke warm feelings of bonds forged through such things as love, laughter, and joy shared among kinfolk. By choosing to employ a professional family photographer, you are selecting someone who understands the importance of preserving such memories for future generations. This way, you can rest easy knowing that those special moments you've shared with loved ones will be captured perfectly and permanently.
How do I choose a good family photographer?
Choosing a great family photographer requires some careful deliberation on several fronts.
Specifically, evaluating their portfolio quality and style alongside perusing client reviews is crucial information gathering on your journey of making an informed decision here. Furthermore, taking into account costs associated with booking them for such services & proximity of said photographers/photography service providers must not be ignored either! Finally yet importantly meeting them virtually or face-to-face could become decisive while enlisting one who suits all your demands better than others out there does!
What is family photography called?
When skilled photographer captures images of families, they are engaging in the art known as family portraiture.
By embarking on this endeavor, the photographer aims to express familial warmth and affection through visually pleasing stills featuring different relatives in aesthetic poses.
Are family photos covered by insurance?
Many of us hold dear our family pictures.
Nevertheless, insurance policies may not provide protection for such precious possessions in most instances. Nonetheless, ensuring their safety is still vital. Backing up digital copies or securely preserving physical prints are recommended methods of safeguarding your keepsakes.